Complying with Covid-19: Tips for Germ-free Property Management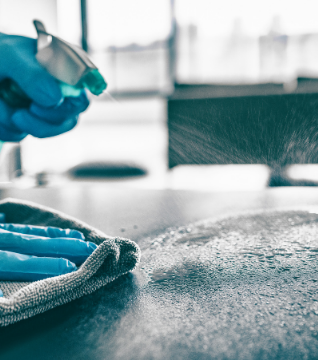 The coronavirus has changed the world, including the way we do business.
As a property manager, you have a duty to protect your clients, guests, and employees. In 2021, this includes doing what you can to protect them from Covid-19.
Maintaining a hygienic property that is in compliance with Covid-19 sanitary requirements requires property managers to take their cleaning routine to the next level. Keep reading for our top tips for hygienic property management during Covid-19.
Develop a Cleaning Plan
The first thing you need to do to stay compliant with Covid-19 best practices for property management is to develop a plan for maintaining your property. You have to decide what should be cleaned – when and how.
According to the CDC, areas that are unoccupied for at least 7 days only need routine cleaning. Areas with more traffic will need special attention. Outdoor areas can continue to be cleaning using your existing cleaning regimen.
You'll also need to decide how to prioritize different areas. To do this, you should consider the types of various surfaces on your property as well as how often they are touched. Surfaces that are touched more frequently should be prioritized.
There have been shortages of cleaning products and personal protective equipment (PPE) as a result of the pandemic. You want to consider which products you have access to and whether you have the required PPE to use certain cleaners and disinfectants. Your cleaning staff should be properly trained on how to safely use cleaning and disinfecting chemicals.
Implement Your Cleaning Plan
Remember to always clean surfaces that are visibly dirty with soap and water prior to disinfecting them. Surfaces that are frequently touched should be cleaned and sanitized at least once a day.
Always ensure your employees are practices good general Covid-19 safety habits including staying home when they are sick, wearing a mask and washing their hands frequently. Employees, including those cleaning, should maintain social distancing and avoid sharing frequently touched objects or common spaces.
When cleaning, employees should always wear gloves. If using disposable gloves, be sure to discard them safely after use. If using reusable gloves, be sure to only use them for cleaning and disinfecting. Employees should always wash their hands after removing their gloves.
Cleaning should come before disinfecting. Cleaning surfaces with soap and water removes dirt, germs, and other impurities on surfaces. Then, you can disinfect surfaces to kill any germs that may be remaining.
How often surfaces are cleaned should depend on how frequently they are used. Surfaces and objects that are frequently touched by multiple people should be cleaned and disinfected frequently. These can include:
Pens
Counters
ATMs
Vending Machines
Keypads
Shopping Carts
Tables
Doorknobs
Toilets
Keyboards
Faucets
Sinks
Countertops
Desks
Phones
Handles
Light switches
Using the Right Products
Not all cleaning products are created equal. Some aren't effective against Covid-19. And in fact, some can be downright dangerous when used improperly.
Because of the dangerous nature of chemicals used in cleaning and sanitizing, it's recommended to hire professional cleaning services.
When using cleaning products, always read the label carefully. Here you can find information about how to use the product safely and whether it meets your needs.
You should always use disinfectants that are approved by the Environmental Protection Agency (EPA) to protect your property from Covid-19. You can find a list of disinfectants that are approved to effectively kill the coronavirus on this website.
When using disinfectants, be sure to wear gloves and ensure proper ventilation. Most products also recommend keeping surfaces wet for a period of time to ensure sanitization.
The CDC says that if disinfectants are not available, bleach solutions may be used.
Bleach products should be properly diluted and should be appropriate for the surface you are cleaning. Bleach products for disinfection should be in the range of containing 5-9% sodium hypochlorite. Consult the product's label for specific instructions on creating a diluted solution.
Follow Up With Routine Cleaning and Disinfection
Because of the limited availability of PPE and cleaning products, you should frequently evaluate your cleaning plan and make changes if necessary.
Your employees should be trained to maintain a hygienic property and identify the symptoms of Covid-19. You should develop and implement policies to protect workers and educate them about coronavirus cleaning. Employees and cleaning staff should be trained on when and how to use PPE, including how to put it on and take it off as well as how to safely dispose of it.
Your employees should be trained on the hazards of using cleaning chemicals in the workplace in accordance with CCOHS standards. Employees should also be properly trained on how to handle bloodborne pathogens and the proper disposal of regulated waste.
Hire a Professional to Maintain Hygenic Property Management
As a property management professional, properly maintaining your property during the pandemic is paramount to the safety of your clients as well as the community.
The best way to keep your property hygienic and in compliance with Covid-19 sanitary requirements is to hire commercial cleaning services. Professional cleaning services are up to date on the latest information and guidance needed to keep your property safe for your employees and guests.
Professionals have access to the most effective cleaning supplies and know how to use them safely. Take the stress out of keeping your property clean during Covid-19 by letting us do the dirty work.
Click here to contact us today and learn more about our services.