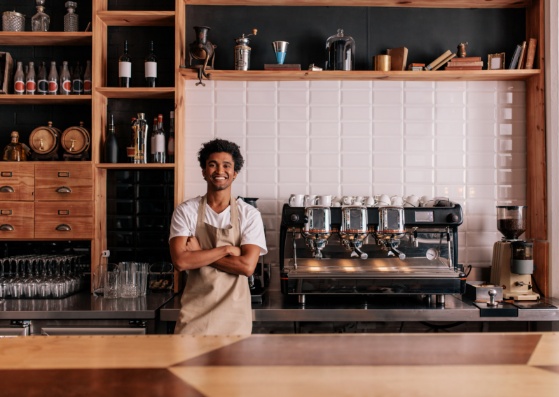 1.Keep Your Floor Beautiful With New types of flooring
If you are just starting out or considering renovating your restaurant, coffee shop or retail store, then Ovnymex strongly advises you to invest in new types of flooring such as luxury vinyl tile. LVT it will save money in the long run for it requires less maintenance. The only downside of LVT flooring is having more of a matte finish, but if you, as a business owner, do not mind and think it aligns with your branding then it is worth investing into.
2. Make Your 2019 Your Social Media Year
Marketing your restaurant or your newly established cleaning services company is not an easy task. However, in this time and age having a strong social media presence is not optional. Planning your social media presence strategically would boost your chances of reaching and expanding your clients' base. Moreover, a crucial part of your social media presence success is determining which social media platform to use. To answer this one million dollars question, you need to identify who your ideal customers are and on which social media platform do they spend most of their time. This would differ from one company's ideal customer and another, and different type of businesses. For example, a restaurant business should focus more on using Instagram while an HR hiring and consultation firm would have to build its presence on LinkedIn.
3. Simplify to Amplify
This concept applies to any business in general but would benefit business traditionally done offline. Customers are pretty busy and generally impatient, hence the more you are able to simplify, ease and speed the process of getting their place cleaned, the higher their satisfaction rate will be. Try visualizing the whole process your customer has to go through from start to finish, starting at their first interaction with your brand on social media or landing on your website up until when your crew walks out their premises door.  How can you speed the process for them? Is your website or landing page mobile responsive? Is your contact information easy to find? Is your contact form working properly without glitches? Or maybe you should consider having a portable visa machine with you so once done with cleaning your customer could pay for your service using their credit or debit card. Adapting to your customers' need is crucial and facilitating their transition from one touch point to another is what will land you more deals and push your business forward.
4. Investing In New Technologies
Back to the time constraints and how customers are on their toes most of the time, using outdated equipment would lengthen your job and might not meet cleaning modern standards. Investing in new, top-notch equipment will keep you ahead of your competitors, most probably would save on the number of chemicals and supplementary equipment such as rubber gloves, and would get the job perfectly done in a much shorter time.
5. Leaning To Green
Consumers environmental awareness level has risen significantly over the past few years, making the integration of eco-friendly cleaning products and environmentally friendly practices into professional cleaning regimen a must rather than a luxury. In spite of that, cleaning companies are not adapting to this new trend which leaves a predominate gap to be filled.  This is good news for eager cleaning service providers who are looking for an opportunity to stand out of the crowd through better catering to their customers' needs.